Overview
| | |
| --- | --- |
| Duration: | 2 Days |
| Group size: | 4-14 people |
| Departure: | Athens center |
| Meals: | Snacks and meals are provided |
| Level: | Easy |
| Altitude: | 1150 m |
Trip Introduction


Join us for an exploration of the Flambouritsa, a gorge of great beauty and richness in flora and fauna, which belongs to the Natura 2000 - the largest network of protected areas in the world, offering a haven to Europe's most valuable and threatened species and habitats. Birthplace of Hermes, God of travellers, Flambouritsa is a welcoming terrain with mild water streams gushing by a abundant forest.
We will head uphill reaching Ntourntouvana, one of the most reknown peaks of the area and we will camp by the lake Doksa at a unique terrain due to the particular geomorphology of the surrounding mountains. The area also is home to the 400 years old monastery of saint George that played an important role during the Greek Revolution against the Ottoman Empire. We will have the chance to visit its premises, talk to the locals and be offered traditional, rose-water tasting, sweets.
Physical Condition & Experience Requirements

Dourdouvana trail is not a technical hike but a good stamina is an advance. No prior trekking experience is required; however having done some hikes before will still be an asset. It is recommended for participants with pre-existing medical conditions such as heart, lung, and blood diseases to consult their doctor before any hike.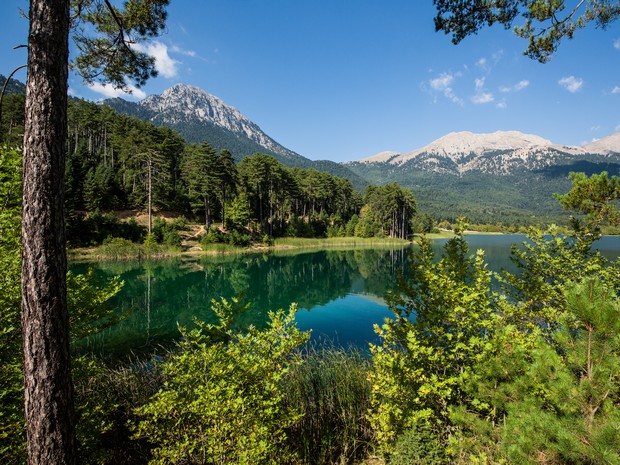 Flampouritsa gorge & Mt. Durduvana
PRICE
€ 270
1 Adult
---
Duration: 2 Days
Departure: From Athens
---
FLEXIBILITY
Book with peace of mind and confidence. Change your dates or adventure after booking

Need help with booking? Send Us A Message

BOOK A PRIVATE TOUR