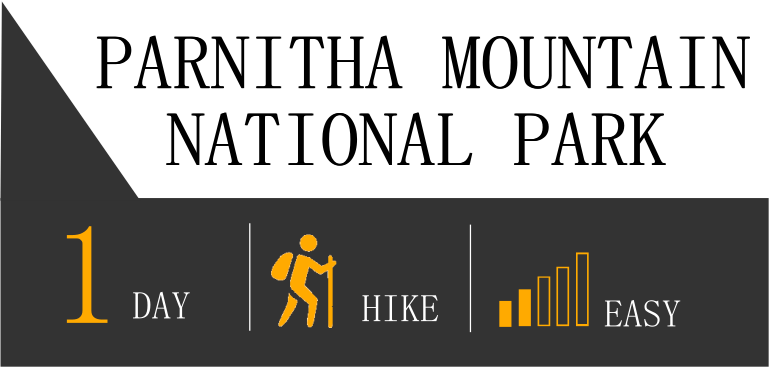 | | |
| --- | --- |
| Duration: | 1 Day |
| Group size: | 2-10 people |
| Departure: | Athens |
| Meals: | Snacks are provided during the hike |
| Level: | Easy |
| Altitude: | 1160 m |
Trip Introduction
The trek at Mount Parnitha is designed for beginner trekkers who are in good health with average physical fitness.The National Park of Parnitha provides the ideal solution for those who love nature and want to escape from the noisy city. Parnitha is the ideal mountain for pleasant hiking excursions, without particular difficulties or risks.
The routes provide opportunities to observe different vegetation types: firs, pines, oaks, junipers, plane-trees and phrygana. The most important paths are well sign-posted and pass along springs, thick forests and pastures.
Mt. Parnitha is a relatively steep mountain with dense vegetation and several ridges separated by deep valleys or gorges. In 1961 the entire mountain was declared a National Park.
It is the closest and highest mountain in the vicinity of Athens.The National Park of Parnitha holds many secrets that few people know and you will find it home to 42 mammals, among them deers, foxes and many kinds of birds.
There are numerous hiking trails on the mountain of varied difficulty that are suitable for every hiker.
Physical Condition & Experience Requirements

Parnitha trail is not a technical hike but good stamina is an advantage. No prior trekking experience is required, however having done hiking before will be an asset. It is recommended that participants with pre-existing medical conditions such as heart, lung, and blood diseases consult their doctor before any hike.
Trek Itinerary
We will meet at Doukissis Plakentias metro station at 08.30am.
We will drive until until the starting point of the hike trail. This, usually doesn't take more than 1 hour.
We will hike one of the National Park of Partnitha trails. Dyring the hike we can have some stops for rest or to take some photos if someone wants to.
Οn top of the mountain, there is a refuge house where we will take a rest and have some snacks
On our way back we have two options. Either we come back from the same trail or we can use wihout any extra cost the cable car to descent the mountain. This up to the decision of the team.
We will go back at Doukissis Plakentias metro station.
What is included in the price
Transportation from Athens to Parnitha and return
Hiking Equipment (baton)
Snacks during the hike
English speaking guide
Raincoat (upon demand)
All taxes

What is not included in the price
Booking flights to Athens
Travel insurance
Sleeping bags
Alcoholic beverages
Additional expences as a result of leaving the tour earlier
Additional expences as a result of staying longer
All other services that are not listed above
What to bring with you
Hiking shoes
Headlamp
Backpack
Water Bottle
Hat
Sunscreen
Wild Animal life
Mammals living in Parnitha National Park include red deer, wild boars, red foxes, weasels, cretan wild goats, wolves.
English speaking guide
A local guide speaking fluently English will guide you throughout the hike.
Beautiful trekking area
Parnitha is the closest mountain in Athens, ideal for those who love nature and want to escape from the noisy city.
Rock Climbing
Parnitha mountain offers the possibility for those who want to go for rock climbing.
Charateristics of the hike

Duration of the trip, including the transportation is about 6-7 hours.

Hiking in the National Park of Parnitha can be done the whole year.

The minimun attendance for Parnitha hike is 3 persons.

The difficulty level for the Parnitha hike is easy