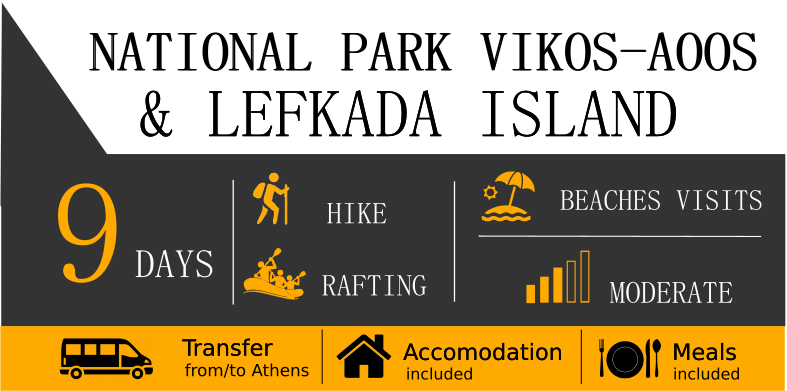 Overview
An adventure trip on the mountains of Northern Greece and relax moments in Lefkada island
| | |
| --- | --- |
| Duration: | 9 Days / 8 nights |
| Group: | 5-12 people |
| Departure: | Athens |
| Meals: | Snacks and meals are included in this trip as indicated in the itinerary |
| Level: | Moderate |
Tour Overview
In this tour we explore the Vikos-Aoos National Park, the most untouched area in Greece, north of the city of Ioannina, in the region of Epirus. The relative small human impact, the rare flora and fauna of the area, and thanks to its wild and unspoiled nature makes this place unique in Greece
We will cross the impressive Vikos gorge, located in the heart of the National Park, and listed in Guinness as the deepest gorge in the world. We will hike up to a magnificent alpine lake (known as dragon lake) and we will have the chance to stay overnight in the refuge house on the mountain.
We will visit Zagori a mountainous region of stunning beauty, one of the most strictly protected areas in Greece. As the region remained cut off from the rest of the country for decades, you will not find here signs of massive tourism. We will visit and stay at some of the picturesque stone villages of Zagori, a masterpiece of traditional architecture, ideal for those seeking relaxation and tranquility.
Finally we will go for rafting in Voidomatis river, ranked as one of the cleanest rivers in Europe and enjoy the stunning nature of the area while paddling through turquoise crystal clear waters.
The last 2 days of the tour we will visit the island of Lefkada to relax and enjoy the sun and the Ionian sea. Sea kayak activities are included, visits to villages, to magnificent beaches and waterfalls.
Ηighlights of this journey:

- Visit traditional villages in the area of Zagori and around throughout the journey
- Hike Vikos, the deepest gorge in the world
- Hike Vradeto steps, a very old stone structure trail with stunning views
- Rafting in the calm and crystal clear waters of Voidomatis river
- Sea kayak in Lefkada island
- Swim in fabulus beaches of the island
- Visit Nydri waterfalls
Physical Condition & Experience Requirements

For this trip a prior hiking experience is required. It is recommended for participants with pre-existing medical conditions such as heart, lung, and blood diseases to consult their doctor before any hike.
Vikos-Aoos & Lefkada island
PRICE
€ 1.195
1 Adult
---
Duration: 9 Days
Departure: From Athens
---
FLEXIBILITY
Book with peace of mind and confidence. Change your dates or adventure after booking

Need help with booking? Send Us A Message