They support and trust us
NomadsPath over the last years working as a local tour operator in the field of toursim in Greece has established some business effective cooperations and partnerships with travel agents, global associations, also with local small scale business or individuals. It is very important to us to keep our ethics and values for a sustainable and responsible tourism and at the same time to provide a high quality level of services.
International Centre of Adventure & Nature
The ICAN network is the first International reference structure regarding Centers of Outdoor Activities, such as trekking, hiking, canyoning, climbing, ascents, caving etc.
---

Together, we're making tourism better


We're an activist company, founded in 2001. We are far from perfect, but try to lead by example, and campaign for change. By supporting our work and choosing our holidays, you're helping create a kinder, more responsible industry for everyone.
---
The largest global network of adventure travel leaders
The Adventure Travel Trade Association inspires, connects and empowers the global community to do good through travel. We're an ever-growing community of passionate travel professionals from destinations all around the globe.
---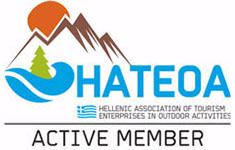 Hellenic Association of Tourism Enterprise in Outdoor Activities
The HATEOA represents the companies in Greece that offer tourism services for outdoor leisure activities and are active both in the countryside and in the urban environment.
---
To connect people to life-enriching travel experiences.
TourRadar provides travellers with everything they need to plan and book their next great escape in one place. From thoughtfully crafted tours and their itineraries, videos and photos, to how-to guides and travel experts available 24-hours a day, 7-days a week.
---


To connect people to life-enriching travel experiences.
A Tripadvisor company, makes it easy to find and book something you'll love to do. With access to the world's largest selection of high-quality experiences, there's always something new to discover, both near and far from home.